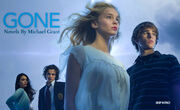 Where to Join
Michael Grant's Gone Fan Forum
As of December 31st there are 486 Members on the site.
On February 10th, 2012...Fayz Nation closed and moved onto a new site with advanced features.
What was Fayz Nation?
Fayz Nation (Aka Enter The Fayz & Hungry In the Dark) is a fan forum dedicated to popular YA ficiton such as Michael Grant's Gone series, The Hunger Games, The Maze Runner Trilogy, The Enemy, Divergent and more.
Created October 8, 2011 by Micah Dawson, the site has undergone many changes over a span of 2 months. Different hosts, looks & layouts before finding it's footing. Currently the site has managed to get over 400 members in it's first two months with many hits daily.
Fayz Nation, was often compared to another site called GP. While Fayz Nation is still fairly new and finding it's way, GP has been around for nearly 2 years and thus has earned its Elite or Premeir status. However, over the past 2 years, GP has undergone many different struggles internally and most recently technically and has begun to slowly bleed members out. GP's struggles and failures often bring success to Fayz Nation. Both sites share mostly the same demographic of members with some members preferring one over the other or being dual members. GP has an issue with Fayz Nation being promoted on their site and has taken preventive action to try and prevent their members from finding out about the site. Going as far as to slander and lie about the site. Meanwhile, Fayz Nation practies a 100% openness policy to all members regardless of what site you originated from.
Fayz Nation has been heavily promoted on Goodreads.com, Shelfari.com, Facebook, Twitter, Tumblr and even on GP's own website itself. Most recently, Michael Grant has promoted on his personal facebook page.
The site is very diverse. Members range from age 11-26, boys and girls, different races, cultures and countires. A coloroful community of people with wonderful and disntinct personalities. The moment you join, you instantly feel apart of a group versus like an outsider as you do on other forums.
The vision of Fayz Nation is to be a site where members can escape the troubles and stresses of their personal lives and connect with members all over the world who are fans of various YA series.
The Irony here is that some of the things that happened with GP and their issues happened on our site :) though in our defense, they did actually cause some of those lol. Remember the attacks on our server :D*
Admins
Micah Diablo(Site Creator and Owner)
Morgan
Fisher
Koule
Richie
Nemesis
Moderators
Chris
Jimmy
Danny
Flame
Aaron
Guides
Meg
Sapphire
Poodle
Slim
Dolce
Anni
Giuliana
Annabeth
Phelan