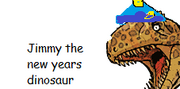 ChrisTheMoof also called Chris By Many Member's of the site.He joined the site on the 22th of November.
He Is a moderator on Fayz Nation.And enjoys life.
He First found the site when he was Chatting on GP.Him and his friend Alex begun Roleplaying there.For a short while he was the rank of Gamer.Then He became inactive for a week.
When He got back he begun visiting the site for longer periods of time.
He now visits FayzNation More regularly than GP or any other site
He always has great fun.He is a friendly person and also very helpful